Podcast #5 | Jesper Skibsby (WARM) : Creating opportunities for artists through radio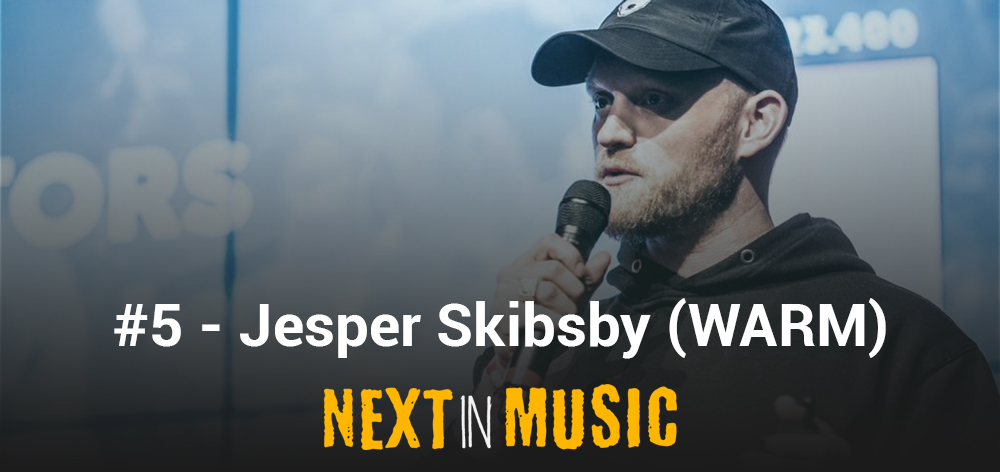 There is no longer deying that streaming is the dominante way to listen to music. Radio, who used to be in the number one spot, has to reevaluate its role and find the right spot in this new landscape.
I was interested in talking to an entrepreneur / artist manager / music fan who is launching a service so simple everybody thought it already existed, but that actually no one was bringing to the table.  Today I'm thus chatting with Jesper Skibsby, founder and CEO of WARM, World Airplay Radio Monitor, the first large-scale radio monitor. The service allows users to track the airplay of their songs on radio stations around the world in real time. The company was founded in 2016 and now tracks more than 23,000 radio stations. WARM is getting more and more popular amongst music professionals and has won several rewards since the end of 2017.
As Jesper is Danish, the interview is in English. If you prefere the French translated version, you can find it just by changeing the language setting on the website, or you can also find it on your podcast provider as well. You can also check the article I wrote as few weeks ago, based on the same interview: WARM : the radio airplay tracking tool the industry was missing. You can find references discussed during the podcast below, as well as a lexicon for the main terms used.
In this episode we talked about:
[01:45] Jesper's background in music and the story behind WARM, the solution it brings to the industry
[07:43] The complexity for artists to get paid for their airplay
[11:20] The state of competition
[13:10] WARM's mission to help emerging artists
[20:15] The upcoming WARM RPS plugin
[22:13] The state of radio, and the changes he expects to see
[27:03] The belief in the industry that started by hindering WARM's expansion and is now a reason for its success
[33:44] WARM's plan for 2018
You can reach out to Jesper by email at js[@]warn.ninja, or through LinkedIn. Find WARM online on their website, on Facebook and Twitter.
---
To go further: a selection of article on the topic of radio
---
To understand everything: references and lexicon
Airplay : the amount of broadcasting time that someone or something, such as a piece of recorded music, has on the radio
Major : the 3 main music labels (Universal Music Group, Sony Music Entertainment, Warner Music Group), who share a large majority of the music business
Do-It-Yourself (DIY) artists : most of the time independant artists, who by choice or necessity decide to take care themselves of all the different elements necessary to launch acareer in the music industry
Bach Technologies : European company specializing in technological solutions for the music business, famous in particular for MusicDNA
Terrestrial radio : the traditionnal radio, in opposition to the satellite radios

DAB Radios

: Digital Audio Broadcasting is a digital broadcasting system allowing a broadcast with higher quality, a larger scope of broadcasting, richer information provided to the listener  (images, text..) and more
Performance Rights Organization (PROs) : provides intermediary functions, particularly collection of royalties, between copyright holders and parties who wish to use copyrighted works publicly in locations such as shopping and dining venues
Soundcharts : French startup offering a tracking and analysis service for artists and labels, from a wide range of data. They won the MidemLab competition in 2017 and raised several millions since then.

Radio Monitor

: company dedicated to airplay tracking for radio and television

API

: Application Programming Interface. A set of subroutine definitions, protocols, and tools for building application software. In general terms, it is a set of clearly defined methods of communication between various software components. Examples in the music business can be streaming services allowing other websites or services to use their players and catalogue.
Long tail : statistical law applicable in many felds, meaning that there is a large number of occurrences far from the "head" or central part of the distribution. For example, the strategy of selling a lot of products but in small quantities is a based on the long tail. In music, it is reflected in the fact that the vast majority of the songs and artists available on the  streaming platforms represent only a small share of the content users listen to on these platforms.
Back End : the invisiblepart of a website, the part the user does notsee but that is responsible for operating all the feaatures of the website.

Music Ally

: UK agency and webzine, very popular in the music industry, focusing mostly on data analysis and marketing
Slush 20 Pitching competition :

Slush Music

is one of the most important music convention. They launched in 2017 the Slush Music 20 startup pitching competition.
South By Southwest (SXSW) : Another must-attend convention in the music industry, this time in Ausiten, Texas.

Nielsen / Nielsen BDS

: the information, data and measurement company also offers its own radio tracking service
---
What's next?
If you liked this episode, please subscribe to the podcast for more episodes in French and English. You can do so on:  Soundcloud, iTunes and your favorite podcast provider. Please do not hesitate to send me your comments, questions, suggestions as well.
Happy listening!
Soundtrack : Long Time Expected, par Zweeback. Source: Bandcamp, license Creative Commons. Download.
This post is also available in: Français