FRANCE TICKETING SECONDARY MARKET: WHERE ARE WE?

While more and more solutions are launched in the UK / the US to fight the secondary market, what is happening in France ticketing secondary market?
A few days ago, DICE and London music venue Islington Assembly Hall announced a partnership, making the venue the first in the UK to rely on a 100% mobile ticketing system.
The startup, active since 2014, delivers a ticketing system through its mobile app. Users have to show their tickets at the venue doors to access the show, locked to their DICE accounts. This simple system prevents second-hand sales and touts outside the venue.
An active player against touting and secondary market, DICE even allows its user to get a full refund of their tickets up until the very last moment, selling them back through their app to concert-goers registered on the waiting list.
TicketMaster recently launched their own anti-online touting and ticket-buying bots program, Verified Fans. The program checks the fan's'identity before allowing them to buy a ticket, and is said to be efficient in 90% of the cases (according to Live Nation's CEO, Michael Rapino). Neon.live is also launching another service to fight touts: a secondary market controlled by promoters.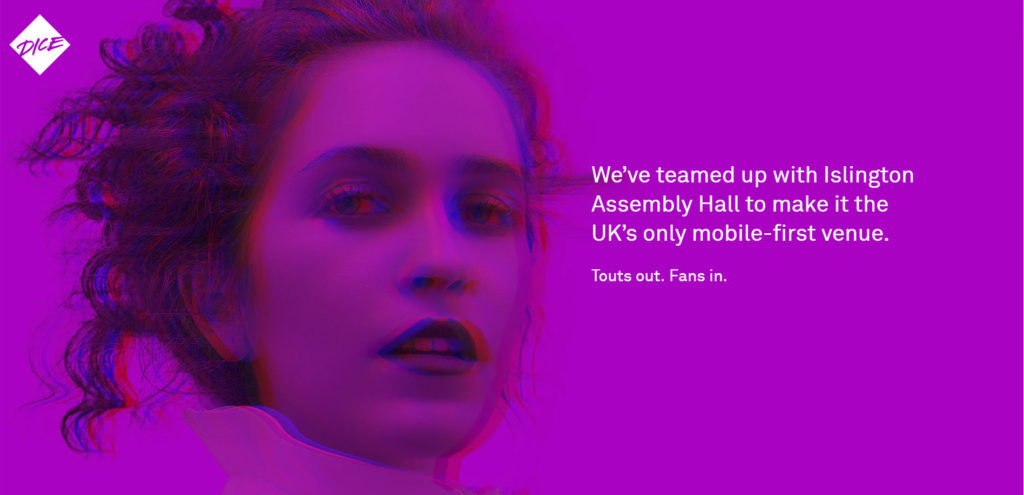 France ticketing secondary market: Where do we stand?
Along with official ticketing solutions from promoters or authorized providers (Fnac Spectacles, France Billet, Digitick, Carrefour Spectacles, Ticketmaster…), peer-to-peer websites (Viagogo, Ticketbis, Zepass…) or event alternative ones (Vente-privée, eBay, Priceminister…) are also selling tickets. Sometimes way more expensive than the official price. According to Aline Renet, in charge of strategy and institutional relations for PRODISS*, in France illegal resale represents from 10% to 15% of all tickets, sometimes up to 25% for the major concerts.
In 2012, France was one of the first country to pass a strict law to restrain ticketing secondary market. It is forbidden to resale live show tickets on a regular basis and without the agreement of the show's organiser. The fine starts at 15,000€ and can go up to 30,000€ in case of a repeated offence. Viagogo was punished several times for resaling tickets at astronomic prices.
But even with this law in place, fraud is still very present. The law still authorizes private individuals, and this is where the touts and resellers dive into.
The solutions in place in France are very limited, compared to other markets. Majors ticketing websites rely on quota  and are proactively communicating to increase awareness amongs concert-goers. But no solution realy goes beyond that. A good market opportunity for startups to launch?
Source: Le Monde
*PRODISS: French national union of promoters, distributors, festivals and venues. They represent 70% of the private entrepreneurs and companies in this sector.
This post is also available in: English