DIGGERS FACTORY: THE COMMUNITY DISRUPTING THE VINYL INDUSTRY

"We want to revamp the whole vinyl production and distribution system". Alexis Castiel and Victor Perin,

Diggers Factory

co-founders, have great ideas in mind to help artists, labels and vinyl amateurs and contribute to the market expansion. With promising first few months and 300,000€ recently raised, they seemed to be on the right path!
We've met with Alexis who tells us more about Diggers Factory, the first community-based platform for on-demand vinyls.
How does Diggers Factory work?
Artists, vinyl lovers and music pros all gather on Diggers Factory's platform and cooperate to produce on-demand vinyls in a very simple way. "As of today, an artist can launch his/her vinyl project in 15 minutes only on the platform" explains Alexis.
First, he or she must create a campaign and define a minimum of pre-orders to be reached (with a minimum of 50), just like on a crowdfunding platform. Then he or she defines the end-user price with the help of the integrated calculator, based on the target margin and various costs: production, mastering, graphic design in necessary, and the 15% Diggers Factory commission. He or she finally adds track extracts and vinyl design. The project is then published on the platform, promoted to the Diggers community and available for the artist to share on his/her own channels.
If the minimum amount of pre-orders is reached, the campaign is approved and Diggers Factory reaches out to their partners to launch the production. Artists can also plan several pre-order stages to keep the campaign running a little longer. In 2016, 10 projects have been financed and 20 already since the beginning of 2017. Promising!
---
A highly engaged Diggers' community
Diggers can also add albums never released as vinyls to their wishlists, or re-issues they'd like to get their hands on. If a large enough number of Diggers express interest for the same album, the Diggers Factory team gets in touch with the rights-owner to discuss the opportunity.
"Wishlists allow us to estimate the demand for a specific album and get more leverage when we get to the labels. We already have the buyers!"
The Diggers' community is very engaged, with more than 40% of users who participated to a campaign and returning to discover other projects and back them up. "Diggers are not limiting their contribution to one music genre only. Some of them actually backed 7 different projects!"
---
The vinyl startup answering market issues
With this pre-order system, the Diggers Factory team wants to make life easier for artists and labels. While vinyl record trends are on the rise, the production is still a complex and costly process. How many to produce? With which partners? What is the fair price between breakeven and affordable for fans?
Diggers Factory brings answers to these questions, along with support in the campaign creation process. All artists, no matter their career advancement, music genre and fame can produce their own vinyl records without any financial and storage risks.
This eagerness to bring solutions to the market is the motivation behind the creation of Diggers Factory. Still a student, Alexis started by building connections in the music world, getting more and more interested in the vinyl side of the business. He quickly realized the price and storage issues that were hindering the market. At the same time, crowdfunding exploded: "Anybody could launch any project just by gathering around them other people who believed in this project".
Alexis wants to bring these two trends together and go a step further. "Crowdfunding is not efficient enough: the project owner gets the money in the end and there is no follow-up. Sometimes the rewards arrive 2 years after the campaign or are not even produced". So do not compare Diggers Factory to crowdfunding: they're doing much more!
"We are bringing added-value compared to crowdfunding. Diggers Factory acts as a counsellor, with a full ecosystem of partners specialized in vinyl."
A specialized ecosystem
The Diggers Factory team knows how to surround themselves. They are currently partnering with 6 vinyl production factories in the US, Germany, Czech Republic and France. "It allows us to have the largest options when it comes to vinyl production, in terms of vinyl burning quality and quantities to be produced." Alexis clarifies. "it also allows us to have good turnaround time: 6 to 7 weeks for large quantities, while the market average is 10 to 12." And while the traditional production system requires at least 300 vinyls to cover the costs, the 50 units minimum required by Diggers Factory is a true optimization.
Diggers Factory also work with around 10 mastering studios specialized in different music genres, with different tariffs. A logistician manages the whole vinyl collection and sending process, sending the vinyls worldwide to all the backers. Freelance designers are also available for artists who need help in creating vinyl sleeves designs.
"We have enough partners to adjust the vinyl production to each project and artist, from low-cost vinyls to very premium ones".
A new marketing tool for artists
The campaigns are also a good way to bring the fans and the artists closer together. By allowing fans to get involved in the creation of an important and symbolic object for the artist they love, Diggers Factory creates a new relationship between them. "The community is truly involved in the campaign, thanks to them the vinyl sees the light of the day".
The service also allows artists to estimate the demand for vinyls before launching the production. they can afterwards produce larger quantities, to distribute them during concerts for examples. "We have very good feedbacks from independent artists, labels and majors alike". Happy artists and labels also tend to come back to create new campaigns. The French label ANimal Records for example has already produced 4 vinyls thanks to Diggers Factory.
---
Vinyls: fad or long-lasting trend?
For the Diggers Factory team, the answer is obvious: vinyl is a promising market. First, thanks to streaming: allowing music-lovers to listen to an album online before buying it, streaming acts as a testing medium before buyers invest in their favorite albums in the form of vinyls. But the same could have been said for CDs, and streaming actually ended the format. So what is making vinyl different?
"CD does not bring added value to the user. Now they have streaming for the practical side, and vinyl for sentimental one."
As a continuity of the artist's universe, physical music formats and merchandising always held an important part in the relationship between artists and their fans. With streaming and the overall digitalisation of every aspect of music, this physical link is becoming more and more important. "Vinyl allows the fan to take the time to truly listen to the album, discover the artist's universe, and in a way own part of the artist. Diggers Factory even allows fan to be part of the creation of this object".
Significant market opportunities
Diggers Factory is willing to grab a nice spot in this growing market. "Vinyl is booming, we are bringing a good service, but it does not mean there is no longer issues to deal with. We want to bring together all the market stakeholders, get them to collaborate and optimize the industry". Diggers Factory clients are already across the globe: France of course, but also the US, Japan, Germany…
Opportunities are significant as very few back catalog albums were ever recorded on vinyls. Some artists even get released only on digital platforms. "A lot of digital distributors understand that vinyl and digital are going to cohabitat. For this reason we talk with them a lot". Diggers Factory recently worked with ReverbNation to organise a contest to win the production of 100 vinyls. More than 4,000 artists participated to this first collaboration between the two companies.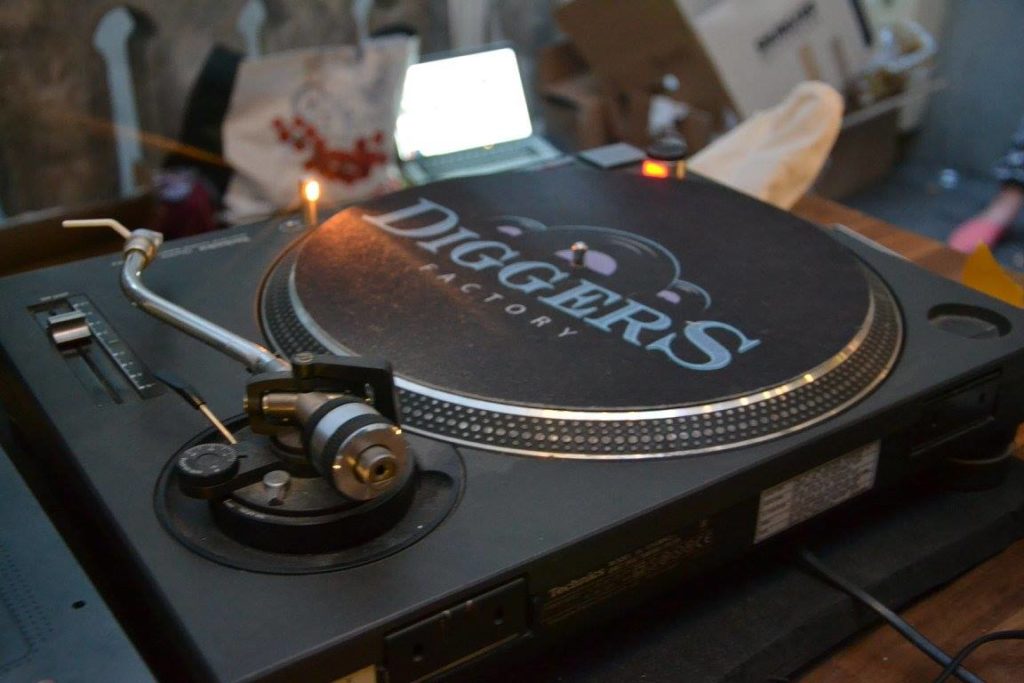 ---
Next steps for Diggers Factory
The startup recently raised 300,000€ with the Investessor network, thanks to their participation in the We Raise Startups program. The team is looking to expand with 3 new positions reflecting the strategic orientations for the coming months:
Marketing: to develop their own audience, but also help artists create and manage successful campaigns
Sales: to educate artists and labels who are still not crossing the line, and develop their clients & partners network
Distribution: to develop the recently created reseller/B2B activity, allowing record shop owners to buy in bulk
Diggers factory also launched in April an ongoing collaboration with the National Audiovisual Institute (INA) for the production of Jazz and Chanson Française vinyls. The first ones are new live records from Ray Charles, Serge Gainsbourg and Dalida. Diggers Factory is also considering expanding into the live recording vinyl production, in association with concert venues.
The team also has in mind other services to offer to artists:
A press service, to help creating and sending press releases
A recommendation system to automate the selection of the partners to work with depending on the project
Some communication white papers and guides for artists who don't know where to start
A portable engraver to produce small-size orders themselves
"For now we focus on our existing model, to be sure everything is running smoothly before moving forward". And why not launching in the US? The country represents 50% of the worldwide vinyl market and where no competition seems to be existing at the moment.
This post is also available in: English